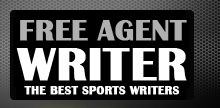 Yankee Addicts
Categories
Featured Sponsors
News published by
January 18, 2017
Before the conference championship games, we'll check back with the teams watching the postseason from their sofas in this 2017 NFL mock draft. What's the best draft fit for clubs ...
January 15, 2017
For players with expiring contracts not competing for the ultimate goal, a Super Bowl title, uncertainty becomes reality. What's my market value? Does my current team still want me around? ...
January 14, 2017
Saturday's NFL divisional-round matchups bring two perennial postseason teams against two clubs attempting to earn respect as Super Bowl contenders. The first contest will feature an intriguing chess match between Seattle Seahawks ...
January 13, 2017
Should the Cleveland Browns draft a potential franchise defensive player or quarterback to start the 2017 NFL draft? How could their selection affect teams like the San Francisco 49ers at No. 2? Struggling ...
January 12, 2017
We're down to three head-coaching vacancies. The San Diego Chargers, San Francisco 49ers and Los Angeles Rams continue to search for a new lead ball coach. The hottest offensive coordinators, ...
January 11, 2017
After a thrilling College Football Playoff National Championship, collegiate resumes for those entering the NFL draft will be dissected over the next few months.  Eight NFL teams continue to chase the Lombardi Trophy. ...
January 9, 2017
Six NFL franchises continue to schedule and shuffle through candidates to fill head-coaching positions. Coordinators on the professional level lead this year's crop of potential hires. Despite the Miami Dolphins' recent ...
January 8, 2017
Approximately two months separate Wild Card Weekend and NFL free agency. Teams cannot contact or negotiate with players until March 7. Players can officially sign on March 9, but the ...
January 8, 2017
The Oakland Raiders stumbled into the postseason, and the Houston Texans sent them through the exit on the other side.  Quarterback Connor Cook drew his first NFL start against the No. ...
January 3, 2017
New Year's Day marked the end of the 2016 season and the starting point for NFL mock-draft flurries. As 12 teams strategize for the playoffs, 20 fanbases have already turned ...