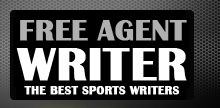 Yankee Addicts
Categories
Featured Sponsors
News published by
November 2, 2010
That's right, I said that the Bears need to be cautious of a Buffalo Bills team this weekend that, in this writer's opinion, is dangerous. The Bills are 0-7. They have ...
September 4, 2010
The Chicago Bears informed nine players on Friday that they were going to be released the following day, September 4, when all NFL team rosters have to be cut down ...
July 15, 2010
I understand that trying to put together the 53 man roster before training camp even kicks off is what some may call slightly premature, but it should provide an interesting ...
July 1, 2010
This article is just sort of a random piece I put together that compares each Chicago Bears starter with a cold, tasty brew. Now, the starters were selected based on ...
May 29, 2010
Before people start blasting me, I will say that there are reasons to be optimistic this year for the Chicago Bears. Those include: - Jay Cutler and the receivers potential to ...
April 30, 2010
Dear Jerry Angelo, You are an idiot. I am sorry, but your recent decisions regarding the Chicago Bears safety issues is just ridiculous. First, the simple fact that you traded Chris Harris to ...
March 31, 2010
The Chicago Bears have not been subtle in their attempt to move starting defensive end Alex Brown. It was rumored early on that he was being shopped around. Then Lovie Smith confirmed ...
March 3, 2010
The Chicago Bears have been linked to several prominent free agents this offseason, including a few big-name running backs. However, the best possible free agent running back that the Chicago Bears ...
February 21, 2010
In my senior year of high school, I traveled to Europe to visit my brother who was studying abroad. We trekked around from country to country, London to Paris, Paris to ...
January 10, 2010
All right, let me start this article off by saying one thing: I dislike Mike Martz as a person, as a analyst and as a head coach. That aside, he might ...