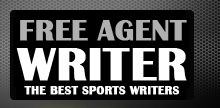 Yankee Addicts
Categories
Featured Sponsors
News published by
February 25, 2010
There has been talk (maybe too much talk) this offseason that the New Orleans Saints could potentially let go of RB Reggie Bush. While he's a good player who ...
February 24, 2010
Former Philadelphia Eagles RB Brian Westbrook—he technically is still on the team—went on ESPN Radio 97.5 FM in Philly this morning and was asked about the team. Former Eagle ...
February 24, 2010
According to Adam Schefter's Twitter account, the Green Bay Packers have franchised DT Ryan Pickett. The move will cost them $7 million for this season. "Green Bay Packers placed their ...
February 24, 2010
This isn't a surprise. The Oakland Raiders have franchised defensive lineman Richard Seymour to the tune of $12.398 million for next year. Even if it was stupid to trade for ...