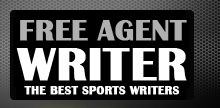 Yankee Addicts
Categories
Featured Sponsors
News published by
January 23, 2013
Lost in the hype of the "Har-Bowl" and all the soft-focus hysteria over Ray Lewis' final game, there is the small matter of the San Francisco 49ers and Baltimore Ravens ...
October 27, 2012
Chances are, if you're reading this, that you root for the San Francisco Giants, a phenomenally weird baseball club that just happens to be, depending on when you read this, ...
October 13, 2012
There are three things to remember going into Sunday's 49ers tilt, where they'll face the New York Giants in a much-anticipated rematch of last season's NFC championship game: 1) October ...
January 3, 2011
Here at Bleacher Report, whenever a slappy finishes composing yet another brilliant piece of prose, the "work" is only half over. After that comes the fun part, where you have ...
December 24, 2010
How great is it to be a starter on the 49ers? No matter what you do, no matter how astronomical in scale your screw-ups are, you get to go to bed ...
December 11, 2010
The great exodus started last March when former general manager Scot McCloughan and the 49ers parted ways under mysterious circumstances, a month before April's draft.Then, in training camp, defensive end ...
November 23, 2010
Coming into the season we thought the San Francisco 49ers would do some momentous, groundbreaking things, and by golly they haven't disappointed. Residing in last place in the worst division in ...
November 16, 2010
One of my all-time favorite movies is Cinderella Man, which is based on the life and times of James. J. Braddock, the heavyweight champion of the world from 1935 to ...
November 13, 2010
Sunday afternoon's game between the visiting St. Louis Rams and your UEFA Champion San Francisco 49ers will be a confusing affair for the folks at Candlestick Park. On one hand you ...
November 8, 2010
Because flying to London is just a bit outside of my travel budget, I had to settle for watching the last 49ers "home" game on the tube like the rest ...