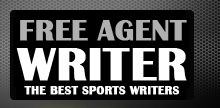 Yankee Addicts
Categories
Featured Sponsors
News published by
February 15, 2014
Just making it into a single Super Bowl in this modern day, built for parity, NFL is very difficult. Making it into back-to-back Super Bowls is extremely difficult. And winning back-to-back Super ...
February 8, 2014
Earlier this week recently retired Atlanta Falcons tight end Tony Gonzalez told ESPN The Magazine he did not believe Matt Ryan was an elite quarterback. "Matt's an excellent quarterback," Gonzalez said, ...
October 19, 2013
If you're looking to blame someone for the Giants 0-6 start, you better start looking beyond Eli Manning and Tom Coughlin. New York sports fans can be both great and terrible ...
September 11, 2013
Next man up = Brandon Jacobs. Andre Brown will be sidelined until at least Week 9 of the season with a broken left leg. David Wilson likely spent his Monday afternoon scouring ...
September 7, 2013
There have of course been NFL teams that have suffered through disastrous preseasons, but few in recent memory have been as difficult as that of the New York Giants in ...
May 19, 2012
The Cleveland Browns have compiled a 9-23 record in the first two years of the Mike Holmgren era. When the Super Bowl winning coach came to Cleveland there was hope ...
January 11, 2011
The New York Jets talk a big game, that's for sure. Heck, if you've ever heard Rex Ryan speak to the media, you'd think that he was the one with three ...
October 22, 2010
Since when has the National Football League turned into one large game of chess? As of right now, you can barely touch a quarterback, you can't touch a kicker or ...
August 19, 2010
The Giants' defense will play better in 2010.  After all, how could they possibly be any worse than they were in 2009?  After the New Orleans Saints exposed the Giant's gruesome threesome—Michael ...
April 22, 2010
Giant fans, for the first time in the history of the NFL, we have the ability to literally win the Giants an NFC title.   As we all know, accusations are ...