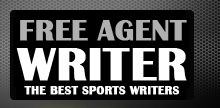 Yankee Addicts
Categories
Featured Sponsors
News published by
August 1, 2010
The story unfolding for the 2010 New York Giants is a tale with more twist and turns than the summer blockbuster "Inception." The G-Men appear to be heading back towards ...
May 26, 2010
There is no doubt that football is one of the greatest inventions to ever grace this world. Every Sunday during football season, millions of people gather together to watch their ...
May 2, 2010
The New York Giants had a season to forget in 2009. After a brilliant 5-0 start, Big Blue struggled through the remainder of the year, losing 8 of their final ...
April 23, 2010
Who saw this one coming? "With the 15th selection in the 2010 NFL Draft, the New York Giants select Jason Pierre-Paul, South Florida" The 6'5" 270 lbs. athletic freak from South Florida ...
April 8, 2010
What a difference a couple of weeks makes. The Redskins were on the bottom of the NFC East ladder at the end of the last season. Now they can be ...
April 3, 2010
In my fourth installment of fantasy football predictions, I will be taking a look at the Detroit Lions. The Lions improved as a team from their 0-16 season to 2-14, ...
April 2, 2010
  Nowadays, first round draft picks in the NFL are expected to make an immediate impact. If they don't perform well in their first few years then they are considered busts and ...
March 30, 2010
I'm back for round three of my fantasy preview for the 2010 season. This time I'm going to take a look at the San Diego Chargers. The Chargers finished an ...
March 28, 2010
In my opinion, its never too early to start thinking about fantasy football. I'm going to take a look at some of the major players for the New York Giants ...
March 24, 2010
The Madden Football series has been one of the most influential sporting games in the history of video games. But does this video game juggernaut contain some type of voodoo ...