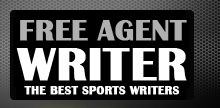 Yankee Addicts
Categories
Featured Sponsors
News published by
January 3, 2011
The Bengals competed hard and put themselves in great position to win the game, but costly mistakes prevented victory. Stop if you have heard that before. I will give them this: Unlike ...
December 9, 2010
At 1 o'clock Sunday, the Bengals will be in the land of the terrible towel, as the moribund team is set to take on the perennial contender and six time Super Bowl ...
December 6, 2010
Let's rewind the clock back to early January 2006, when the youthful and talented Cincinnati Bengals were set to host the Pittsburgh Steelers in the playoffs. The sky was the limit ...
December 2, 2010
Usually, teams that are in the midst of a 2-9 season are contemplating wholesale changes. If you think that will also be the case in Cincinnati this offseason, well then, you ...
November 22, 2010
We all knew the kids in school, the ones who had tons of book smarts, but no common sense or "street smarts." That would describe the 2010 Cincinnati Bengals, as the pedigree ...
October 21, 2010
Lets be honest here, for a team that came into the 2010 season with high hopes, to head into week seven of the season with a 2-3 record is brutally ...
September 15, 2010
There were many disturbing aspects to Sunday's loss at New England, but if you ask me, the fact that Cincinnati gave Tom Brady all day to throw was perhaps one ...
July 29, 2010
When you add a player of Terrell Owens' caliber, it can benefit many around him. Even if he's aging and not what he once was, his reputation and presence ...
June 27, 2010
As Bengals fans are well aware, last year's offensive attack wasn't exactly a harmonious symphony. Clearly, Cedric Benson was the main cog on that side of the ball, but the ...