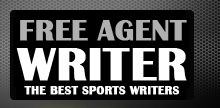 Yankee Addicts
Categories
Featured Sponsors
News published by
April 8, 2011
With the 2011 NFL draft fast approaching, there have been so many mocks, predictions and "expert" articles and comments that I thought I might take a slightly different approach and ...
March 23, 2011
The NFL draft blogs and even Jim Rome have been gushing all day about the fact that the Broncos have interviewed and worked out up to seven potential QBs from ...
March 8, 2011
Although the continued talks and the latest CBA extension until Friday seem to be a positive move for all of us NFL football junkies, it also is doing some damage ...
March 4, 2011
With the 2011 NFL combine wrapped up just in time for the potential NFL lockout, it might be interesting to look at how almost everyone's top-rated CB and top-four mock ...
February 17, 2011
Free agent Champ Bailey has put his Colorado home up for sale, just after it was reported Bailey had renewed contract talks with the Broncos, writes Jeff Legwald. According ...
February 14, 2011
Doing a Postmortem on the Josh McDaniels 1.75 year reign of terror here in Bronco-Land is a bit like watching a nature film of a monkey reaching for a green ...
February 1, 2011
Newly minted Denver Broncos head coach John Fox is about as far as you can get from his predecessor (thank the Lord above). And other than the obvious fact that ...
January 19, 2011
Now that the Denver Broncos front office is in place and most of the coaching staff has been named, it is time to look at who will be on the ...
January 12, 2011
First of all, I am not a "Tebow Hater". I am a pretty astute football fan. I played college football (granted, only D II) and have followed the Broncos for ...
January 10, 2011
Watching the second half of the blowout in Arrowhead Stadium by the Baltimore Ravens, it got me to thinking about where the AFC West (Worst) stands today and where it ...