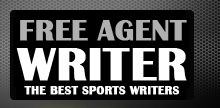 Yankee Addicts
Categories
Featured Sponsors
News published by
January 8, 2012
Drew Brees and the New Orleans Saints appear to be moving on to the Divisional round of the playoffs after a 56-yard touchdown pass put New Orleans up 38-21 with ...
January 8, 2012
With one quarter left to play, Lions quarterback Matthew Stafford took matters into his own hands to get Detroit back into its Wild Card game against the New Orleans Saints.With ...
December 24, 2011
Today, the Minnesota Viking's fans across the country held their breath after a gruesome hit against star running back Adrian Peterson in the team's game against Washington.The hit on Peterson ...
November 27, 2011
The AFC West may be the weakest division in all of football, but it also currently boasts the tightest playoff race in all of the NFL.Right now the Oakland Raiders ...
November 26, 2011
There are plenty of teams across the league who are sitting pretty entering the final stretch in the NFL season.There are other teams who are still battling to stay alive ...
October 23, 2011
This new NFL that we are all witnessing this year has shifted from the conventional running offenses to a new spread type aerial attack. Quarterbacks have been putting up fascinating ...
October 22, 2011
The National Football League is an unforgiving business. At any point in time, any player could lose their job and potential future in the league.Right now, nobody knows that feeling ...
October 16, 2011
From the moment that the Philadelphia Eagles were proclaimed as the "dream team" things began to fall apart in the city of Philadelphia.First fans watched perhaps the best Phillies team ...
October 16, 2011
Home-field advantage is often an overlooked aspect on gameday.Even teams that may not be feared like other powerhouses have some of the most feared stadiums in the league.No team likes ...
October 9, 2011
The ultimate goal for every team, every season is to walk away as Super Bowl Champions.A secondary achievement that is watched closely by the members of the 1972 Dolphins, is ...