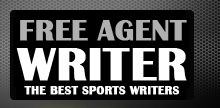 Yankee Addicts
Categories
Featured Sponsors
News published by
May 12, 2015
One day, the NFL might actually get one of these right.  The New England Patriots and Tom Brady aren't the only ones who have completely messed the proverbial bed when it ...
April 17, 2015
It's not just business.  Running back Adrian Peterson and the Minnesota Vikings have fallen into one of the biggest traps of the NFL landscape: They've made things personal. While the vast ...
April 1, 2015
Golden Tate has something his Detroit Lions teammates want, and he's going to help them get it. The 26-year-old wide receiver won a Super Bowl with the Seattle Seahawks in 2013, ...
March 31, 2015
The men from the boys... Athletic pursuits like NFL football often bring out the hackneyed maxims from fans and media. Whether it's wartime comparisons like calling players "soldiers" or just empty ...
March 28, 2015
Detroit Lions fans should be bracing themselves for yet another potential rebuild. Though there certainly may be room for optimism following an 11-5 season in 2014 and a playoff appearance in ...
March 21, 2015
Did you hear the one where...? When it comes to the NFL draft, there is no bigger lure than the aura of the anonymous scout. It's just two little words that ...
March 14, 2015
If he can give them anything on the field, the San Francisco 49ers and their fans will love Reggie Bush.  In a move first reported by ESPN's Adam Schefter, the 49ers ...
March 14, 2015
This is it.  In a move first reported by the Pittsburgh Steelers, Big Ben Roethlisberger's extension of five years and $99 million signals what amounts to the twilight of an era ...
March 10, 2015
The Detroit Lions had a huge hole to fill with the impending departure of Ndamukong Suh, and they found a huge player to replace him.  In a move Aaron Wilson of The Baltimore ...
February 14, 2015
Don't count it twice.  Thats the oft-repeated draft maxim that cautions evaluators from crediting a guy for athletic play on the field and then crediting him again for showcasing athleticism in ...