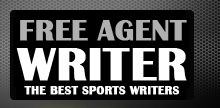 Yankee Addicts
Categories
Featured Sponsors
News published by
January 29, 2011
After 16 years (and part of a 17th), Jeff Fisher is out as head coach of the Tennessee Titans. He was the longest-tenured coach in the NFL, and the franchise's ...
January 17, 2011
Call it an upset. Call it a choke job. But however you want to refer to the New England Patriots' 28-21 loss to the New York Jets in the divisional ...
January 7, 2011
With the end of the regular season comes voting for the three biggest individual awards in the NFL: Most Valuable Player, Comeback Player of the Year and Coach of the ...
December 31, 2010
The players change. The coaches change. The seasons pass from one to the next. But one constant remains for the Jacksonville Jaguars: their abject inability to perform with their season ...
December 24, 2010
To hear some people talk, the NFL Rookie of the Year races have been decided since mid-season. St. Louis quarterback Sam Bradford is the popular front-runner in the Offensive ROTY ...
December 18, 2010
One of the staples of NFL coverage is the Midseason Awards. About halfway through the season, writers and broadcasters alike declare with absolute certainly who the best teams and players ...
December 8, 2010
There are a lot of NFL power rankings on the internet. There are a lot of rankings just on this site. But many of those lists are based on gut ...