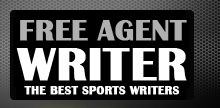 Yankee Addicts
Categories
Featured Sponsors
News published by
September 3, 2013
I instituted the Randy Phillips UDFA Camp Stud Award in 2011 to honor that UDFA rookie who, despite the odds, overachieved so epically that he had to be awarded a ...
July 30, 2013
It's that time again; I'm off to my day camp. Don't worry, I'm properly supervised and promise to be on my best behavior. Your Tuesday ReportAn absolutely sparkling morning! Not a ...
July 6, 2013
I was going to include the DE43s and DT43s (the draftnik in me won't allow me to call them by any other designation) in this installment, but there's more meat ...
July 2, 2013
This is the final unit of the offense for our consideration. As always, we'll use the current depth chart as our guide.General Observations To a great extent, the performance of the ...
June 29, 2013
I'm getting ready for my daily visits to the Detroit Lions' HQ and training facility in Allen Park, Mich. for training camp. The anticipation is building. The questions are piling ...
August 7, 2012
OK, here's what I want you to do. No slackers! I want you to get up and stand on one leg for a few seconds. I'll wait…Alright, take your seats ...
July 25, 2012
Attending a Lions training camp session is the Lions fan's equivalent of making a pilgrimage to Lourdes, or making the Haj to Mecca. Something that should be on every Lions ...
August 6, 2011
It's Kids Day at Allen Park! The munchkins are out in force to see their favorite players and enjoy a day of entertainment put on for their benefit. There was ...
May 21, 2011
Erik Coleman was drafted in the fifth round of the 2004 NFL draft by the New York Jets. Coleman started every game for the Jets over the next three seasons, ...
March 31, 2011
It's time for the third installment of the "Square Peg Brigade" series. The point of the article is to visit those players added to the Lions roster in 2010 via ...