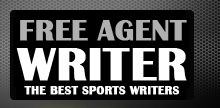 Yankee Addicts
Categories
Featured Sponsors
News published by
June 3, 2010
Mike Florio's recent TSN article identifies Randy Moss and Terrell Owens as uber-talented guys who might have to wait a while before getting into the Hall of Fame due to ...
May 25, 2010
I was speaking to a fellow Viking fan recently and mentioned Adrian "AD" Peterson's fumbling problem. His response was immediate and visceral: "What problem? Walter Payton fumbled a lot, too." It ...
May 12, 2010
Teams like the Minnesota Vikings have been mentioned as possible trade partners with the Washington Redskins for Haynesworth's services. The gut reaction from Vikes fans has been very polarized. Clearly ...
March 27, 2010
As a Vikes fan, at face value it's nice to hear that a great QB like the Eagles' Donovan McNabb would express privately that if traded, his first choice would ...
March 25, 2010
Rick Spielman does not officially hold the General Manager title for the Minnesota Vikings franchise.  But as the VP of Player Personnel, Spielman runs the draft, making final calls on draft ...