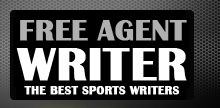 Yankee Addicts
Categories
Featured Sponsors
News published by
January 18, 2017
Super Bowl LI is right around the corner, but before we can crown the champion of the 2016 NFL season, we need to determine the victor of each respective conference.  In ...
January 17, 2017
The participants who have earned entry to the NFC and AFC Championship Games that will take place on Sunday, January 22, have been decided, and it's only natural to start ...
January 16, 2017
After a fairly boring NFL Wild Card Weekend and beginning of the divisional round, we finally got the postseason football we wanted to see on Sunday with a pair of ...
January 16, 2017
The Green Bay Packers punched their ticket to the NFC Championship Game on Sunday with a walk-off win over the Dallas Cowboys on a 51-yard Mason Crosby field goal. They ...
January 12, 2017
We may be smack dab in the middle of the NFL playoffs, but that doesn't mean it's too early to start looking ahead to the 2017 NFL draft. At the end ...
January 11, 2017
On January 14 and 15, four nationally televised NFL playoff games will determine the fates of the eight teams remaining in the postseason race. In the divisional round, the AFC Championship ...
January 10, 2017
We've reached the divisional round of the NFL playoffs, when the NFL's eight best teams will face off over two days to determine the entrants to the AFC and NFC ...
January 9, 2017
The Green Bay Packers continued to run the table on Sunday, besting the New York Giants 38-13 at Lambeau Field.  Though they got off to a slow start, the Packers got ...
January 5, 2017
In the future, seeing the matchup "Oakland Raiders at Houston Texans" listed among the AFC Wild Card games for 2017 will not elicit confusion or bemused laughter.  However, it's safe to ...
January 2, 2017
NFL regular-season action wrapped Sunday night with the conclusion of the Green Bay Packers-Detroit Lions game, and though there was a brief period of suspense as we waited for the ...