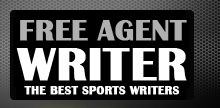 Yankee Addicts
Categories
Featured Sponsors
News published by
August 6, 2013
Silly me. I thought winning a Super Bowl and the Super Bowl MVP award would earn you instant respect throughout the football world. Apparently not for Joe Flacco. I've heard too many ...
July 2, 2013
You can't win the Super Bowl and not have a very talented roster.You also can't win the Super Bowl and hope to keep that roster intact.Even though they lost five ...
June 18, 2013
It's certainly been a busy offseason for the Baltimore Ravens.Since free agency began 14 weeks ago, Baltimore has signed 24 players. Seven of those players did not play for the ...
May 14, 2013
The Baltimore Ravens currently have three quarterbacks on their roster, but that number will likely be down to two by the time the regular season starts.For the last two seasons, ...
February 10, 2013
The Baltimore Ravens are Super Bowl XLVII champions.Ed Reed, Terrell Suggs, Matt Birk and other long-time veterans finally got their long-awaited and much-deserved world championship.Ray Lewis won the Super Bowl ...
January 27, 2013
Now that the Senior Bowl has concluded, those not involved in Super Bowl festivities can truly start thinking about next season.While the scouting combine begins on February 20 and the ...
December 30, 2012
As the playoffs draw near, the Ravens get set to avenge their loss in last year's AFC Championship game. The way that game ended was astonishing to Ravens players and ...
December 16, 2012
The 9-4 Ravens are set for a huge home game against the 10-3 Broncos on Sunday. Baltimore has sustained a lot of key injuries, mostly on their defense. Still, the ...
November 11, 2012
Although the Baltimore Ravens still have half of the season to play, their first-half record and recent history suggests they are a smart bet to make the playoffs for the ...
August 7, 2012
OWINGS MILLS, Md. -- Surrounded by the brilliant colors and bright lights of their indoor practice facility, the Baltimore Ravens had their final practice before Thursday's game at Atlanta.The pristine ...