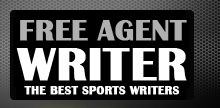 Yankee Addicts
Categories
Featured Sponsors
News published by
January 18, 2017
Phonegate, Peyton Manning and the Colts, and Aaron Rodgers outside of the pocket.         1.  'Put the Phone Down, Dude'  It wasn't long after Antonio Brown's Excellent Video Adventure that ...
January 13, 2017
Not long after the regular season ended, a Seattle Seahawks player was exchanging pleasantries with teammate Russell Wilson, when Wilson smiled and said: "It's playoff time. It's our time." Over the ...
January 11, 2017
Playoff speed is warp speed, let's keep some perspective on Odell and the huge heart of Warrick Dunn.      1. Dak, Zeke and Playoff Speed Around the NFL, there is great respect ...
January 9, 2017
GREEN BAY, Wis. — We again search for words to describe Aaron Rodgers. Magnificent, stunning, jaw-dropping. Maybe you like stupefying, orgasmic or best-ever. Whatever word you use, whatever phrase moves you, ...
January 6, 2017
One of the most interesting men in sports is on the phone, and almost immediately, Seattle Seahawks defensive end Michael Bennett has me thinking, contemplating and laughing. On a Seahawks team ...
January 4, 2017
Some NFL owners are biggest reason their teams stink, lots of "Snacks," and will African-American coaches get shut out?       1. Trickle-Down Intelligence, or Lack Of It, Plagues the NFL In ...
January 2, 2017
DETROIT — I feel like we can run the table. I really do. Green Bay Packers quarterback Aaron Rodgers said that six games ago. The team was in disarray. Rodgers was seen ...
December 30, 2016
I was standing right in front of Tom Brady at Super Bowl XLII when he was told of a prediction made by then-Giants wide receiver Plaxico Burress, who said the high-scoring ...
December 28, 2016
How the Broncos and Panthers got here, what was Terry Bradshaw thinking and the unbelievable Bill Belichick.      1. What Went Wrong in Denver and Carolina? A lot. And in many ways, ...
December 26, 2016
That is the Andy Reid you want to see. Thank you, Andy. Please keep calling plays like that. Pleeeeeease. With the game out of hand, 346-pound Dontari Poe lined up in ...