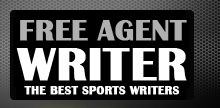 Yankee Addicts
Categories
Featured Sponsors
News published by
October 20, 2012
It's Week 7 of the 2012 NFL season and a couple big-name teams are on upset alert. In Week 6, I went with the Cleveland Browns over the Cincinnati Bengals, ...
October 20, 2012
Terrell Suggs will likely play for the Baltimore Ravens in their Week 7 matchup against the Houston Texans. The question, though, is how much should the star linebacker appear after ...
October 13, 2012
Peyton Manning must help the Denver Broncos to a quicker start if they want to win a critical early-season matchup against divisional rival San Diego. The Monday Night Football clash ...
September 30, 2012
Power rankings in the NFL are sometimes biased towards teams who have been successful in the past or who have a high profile despite their current situation. Teams like the ...
September 2, 2012
The NFL and the NFL Referees Association have ended talks after three days of meetings aimed at reaching a resolution to the disputed labor deal. No additional meetings are planned ...
August 12, 2012
Check out the best that Week 2 of the NFL Preseason has to offer with this schedule. Find places to watch, listen and stream the Detroit Lions vs. Baltimore Ravens, ...
July 21, 2012
Brandon Weeden and Trent Richardson remain unsigned with only seven short days until the start of Cleveland Browns training camp. Rookies are due to arrive to the facilities on Tuesday, ...