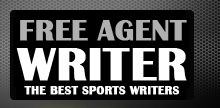 Yankee Addicts
Categories
Featured Sponsors
News published by
December 26, 2015
In two short weeks the Cleveland Browns will close the book on their disaster 2015 season. But they still have some very meaningful football left to play on Sunday against ...
December 24, 2015
The Cleveland Browns have another tall task at hand as they travel to Kansas City to take on the Chiefs in Week 16. Kansas City is chasing the Denver Broncos for ...
December 19, 2015
The Cleveland Browns are in for a fight as they travel to Seattle to take on the playoff-bound Seahawks in Week 15. It'll be a much different atmosphere than last week ...
December 17, 2015
The Cleveland Browns broke their seven-game losing streak in Week 14 but are heading west to take on a Seattle Seahawks team that has won four in a row. Russell Wilson ...
December 5, 2015
The Cleveland Browns (2-9) and Cincinnati Bengals (9-2) are on opposite trajectories as they prepare for 2015's second installment of The Battle of Ohio. Management and personnel turnover following losing season ...
December 3, 2015
The 2-9 Cleveland Browns will host the 9-2 Cincinnati Bengals at FirstEnergy Stadium in Week 13. Austin Davis will be the team's third starting quarterback this season and 24th since the ...
November 28, 2015
The new Cleveland Browns pale in comparison to the Baltimore Ravens, their former franchise. Baltimore has two Super Bowl rings since its franchise packed up and left the shores of Lake ...
November 14, 2015
For the Pittsburgh Steelers, preparing to face a new Cleveland Browns quarterback is standard operating procedure at this point. Over the last six years, the Steelers have lined up against eight ...
November 6, 2015
Johnny Manziel was better but wasn't good enough to lead the Cleveland Browns to a Thursday night upset of the still undefeated Cincinnati Bengals. Meanwhile, Andy Dalton continues to look like ...
November 5, 2015
Thursday night's Battle of Ohio didn't initially have much appeal outside of watching to see if the 7-0 Cincinnati Bengals stay perfect. But the Cleveland Browns trotting out Johnny Manziel—Mr. ...