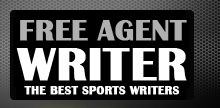 Yankee Addicts
Categories
Featured Sponsors
News published by
November 30, 2013
Being the home team in an NFL game is normally a huge advantage, but that isn't the case this week as some hosts will be unable to defend their home ...
November 23, 2013
With only six weeks left in the NFL season, every single game has great significance as teams continue to jockey for positioning in the playoff hunt. While the playoff picture is ...
November 23, 2013
There is no shortage of struggling teams that have been extremely disappointing during the 2013 NFL season, but there are some troubled squads who will rebound with a win in Week ...
November 5, 2013
After a much-needed bye week in Week 9, Peyton Manning and the Denver Broncos will have no problem scorching the San Diego Chargers defense in Week 10. Rest was definitely in ...
November 5, 2013
Betting on NFL games has been a tricky proposition this season, but there are some spreads in Week 10 that teams will easily cover. The Denver Broncos will hit the road ...
October 1, 2013
There will be four teams with a bye in Week 5, so there will be plenty of owners looking to fill voids left by players who have the week off. While ...
September 15, 2013
Winning a road game in the NFL is no easy feat, but there are three teams who will defy the odds on Sunday and win their respective games away from ...
September 14, 2013
Tim Tebow's sputtering career as an NFL quarterback needs a huge lift, but playing in Russia would do more harm than good to his pursuit. According to James Ellingworth of Russia ...
September 7, 2013
It's no small feat to go into an opposing team's stadium in Week 1 of the NFL season and grab a win. Unfortunately, there will be some squads who come ...
September 7, 2013
From the looks of it so far, New England Patriots rookie wide receiver Kenbrell Thompkins has the skills to be something special, but working with quarterback Tom Brady will put ...