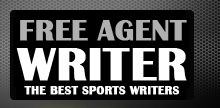 Yankee Addicts
Categories
Featured Sponsors
News published by
July 6, 2013
As any child of the 1990s or early 2000s can attest, the Minnesota Vikings weren't known for their defense. It wasn't until the mid to late 2000s that the defense ...
October 24, 2012
Oh, Christian Ponder. Where to begin .... It's been an up and down season for the second-year quarterback of the Minnesota Vikings. At times, he has looked ready to lead ...
September 30, 2012
After three long weeks of inactivity, Jerome Simpson returns to the field Sunday to make his debut with the Minnesota Vikings. Get excited, Vikings fans. Minnesota's No. 1 downfield option ...
July 11, 2012
It's a big season for many members of the Minnesota Vikings. Christian Ponder needs to progress as an NFL quarterback. He'll have had nearly two full seasons as a starter ...
July 7, 2012
Arrested for resisting arrest? Really?That's what happened to Adrian Peterson early Saturday morning in Houston, Texas.The big question in this whole situation is what the heck did Peterson do to ...
June 20, 2012
If there's one thing the Minnesota Vikings don't need it's for one of its top players to hold out training camp. Unfortunately, it sounds like that may indeed become a ...