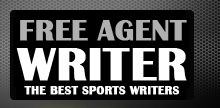 Yankee Addicts
Categories
Featured Sponsors
News published by
February 7, 2011
The Green Bay Packers defeated the Pittsburgh Steelers in Super Bowl XLV and brought the Vince Lombardi Trophy back home to Titletown, USA.Aaron Rodgers had a brilliant performance with a ...
January 28, 2011
The NFL compiles the best football talent and displays it on the field every Sunday in the fall to millions and millions of fans.Football, as a game, is just the ...
January 27, 2011
Should Michael Vick sign a Franchise Tender with the Philadelphia Eagles?Before I get started, there are a couple of housekeeping notes. Vick cannot sign a franchise tender before the new ...
January 24, 2011
The Pittsburgh Steelers and Green Bay Packers will meet in Super Bowl XLV, in Dallas, Texas on February 6th, 2011.I cannot wait for this game; neither can the players, coaches, ...
January 24, 2011
For the media, other players, and fans to question the toughness of Jay Cutler is just absolutely ridiculous. Jay Cutler is an NFL quarterback, he plays football in the National ...
January 22, 2011
For anyone that is worried that there won't be NFL football in 2011, stop worrying. The owners and players are too smart for there not to be a football season ...
January 20, 2011
The Atlanta Falcons ended the 2010 campaign with a disappointing end with a blow-out loss to the Green Bay Packers.But looking forward, the Atlanta Falcons have to decide what to ...
January 12, 2011
The Atlanta Falcons and Green Bay Packers will play for an NFC Championship Game berth Saturday night in the Georgia Dome.The game will kickoff at 8 Saturday night in the ...
January 10, 2011
After a great weekend of Wild Card action, it is time for another rankings of potential Super Bowl matchups.After Week 17, I published an article ranking all of the 32 ...
January 9, 2011
With the Seattle Seahawks shocking the New Orleans Saints the Atlanta Falcons are now the biggest Eagles fans outside of the city of Philadelphia. The Falcons will play host to either ...