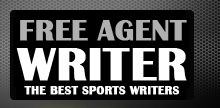 Yankee Addicts
Categories
Featured Sponsors
News published by
March 12, 2010
One of the NFL's youngest franchises, the Carolina Panthers have had their share of successes and failures when dealing with free agents. As the Panthers move forward with their offseason ...
March 12, 2010
Ex-Cleveland Browns Quarterback Derek Anderson is searching for a new home and Carolina might just be the perfect fit. Last season Anderson struggled, posting a measly 42.1 quarterback rating and was ...
March 11, 2010
The Carolina Panthers, looking to bolster their underperforming special teams unit, are discussing a possible trade to acquire cornerback Marcus Hudson from the San Francisco 49ers The 27-year-old North Carolina State ...
March 11, 2010
Just one week after being tendered by the Carolina Panthers, restricted free agent Matt Moore will accept the team's one-year, $3.043 million qualifying offer. The four-year veteran who made under $500,000 last season, is expected to sign ...