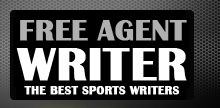 Yankee Addicts
Categories
Featured Sponsors
News published by
January 17, 2017
Tom Brady and Ben Roethlisberger first met under the most storied of circumstances.  It was Halloween 2004. Brady's Patriots were defending Super Bowl champions on a historic 21-game winning streak. Roethlisberger ...
January 16, 2017
The NFL's final four may give you a case of what Yogi Berra used to call "deja vu all over again." The Patriots have reached the AFC Championship Game every year ...
January 15, 2017
ATLANTA — MVP award? Forget the MVP award. Matt Ryan wasn't even sure where the game ball went from Saturday's 36-20 playoff victory over the Seattle Seahawks. "I don't even know what ...
January 12, 2017
Richard Sherman will write a compelling story about Richard Sherman on Saturday in Atlanta. It will be a tale of triumph or tragedy, an epic about passionate leadership or a cautionary ...
January 9, 2017
If you expected the unexpected, then Wild Card Weekend didn't live up to your expectations.  The Steelers overwhelmed the Dolphins. The Connor Cook-led Raiders proved no match for the Texans defense. ...
January 5, 2017
It's time to talk about how poorly Eli Manning has played this year and what the Giants need to do about it if they want to beat the Packers and ...
January 2, 2017
Bad news, 49ers fans. Getting rid of general manager Trent Baalke and coach Chip Kelly wasn't enough to solve your team's problems. The 49ers now suffer from two lingering conditions: ...
January 2, 2017
The NFL playoff field is set! While the Patriots, Cowboys, Chiefs and Falcons enjoy some bye week R&R (recuperation and recovery), the Steelers host the Dolphins in the Ben Roethlisberger Revenge ...
December 29, 2016
The road forks for Kirk Cousins and the Washington Redskins on Sunday. In one direction is a win over the Giants, a wild-card berth, perhaps a victory (or at least a ...
December 27, 2016
Has Week 16 become the new Week 17? The NFL likes to hold off as much playoff drama as possible for a Week 17 grand finale. But the teams themselves had ...