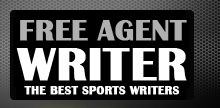 Yankee Addicts
Categories
Featured Sponsors
News published by
February 1, 2011
If there was any question before today that Roger Goodell's desire to see Ben Roethlisberger squirm has spun out of control, today's item in Peter King's Monday Morning Quarterback once ...
January 18, 2011
Monday, just as we prepare to dig through the mountain of analysis of the NFL divisional round playoffs, Favre Bret-tires!!!!! Amazingly, he has the power to file documents and suddenly ...
April 17, 2010
I have changed my daily routine.   I generally love to read the Pittsburgh Post-Gazette and PG+ online, then watch Dan Patrick as I work.   Today, I swapped my ...