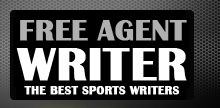 Yankee Addicts
Categories
Featured Sponsors
News published by
March 8, 2014
Ask and you shall receive... The New Orleans Saints are undergoing a bit of a personnel purge—to put it mildly. Many veterans—that are undoubted fan favorites—have been shown the door since ...
February 11, 2014
Atlanta Falcons fans are salivating just at the thought of the team acquiring a young edge-rusher to add to its woeful pass rush. Names like Michael Johnson (Cincinnati Bengals), Brian Orakpo ...
February 8, 2014
After seeing, and now hearing, former (I use that term loosely) Atlanta Falcons tight end Tony Gonzalez make a complete mockery of the Falcons' organization, it's now time to—pardon the ...
February 4, 2014
Before you break out your collective pitchforks, while flooding the comments section with pure vitriol, please hear me out. After a surprising 4-12 season—with that term being used loosely—many have ...
January 15, 2014
A silver lining, among multiple, for the Atlanta Falcons in the debacle that was the 2013 season has to be the play of rookie linebacker Joplo Bartu. As an undrafted ...
December 18, 2013
Well, it finally happened. The notoriously slow starting Saints (on the road) were upended by the lowly St. Louis Rams, 27-16, in a score that was not truly indicative of how ...
December 11, 2013
ESPN's NFL Live has a popular segment aptly named "Overreaction Mondays." This is a very damning segment, as it highlights how both the media and fans overreact simply to what ...
November 27, 2013
Jack of all trades, master of none... Answer this question objectively; what has New Orleans Saints safety Kenny Vaccaro really done well? Most of you will point to his physicality when tackling. ...
October 30, 2013
Every Batman needs a Robin. New Orleans Saints inside linebacker Curtis Lofton is the unquestioned leader of the Saints defense (unless you ask fellow linebacker Jonathan Vilma). His tenaciousness, productivity and savvy ...
October 16, 2013
New Orleans Saints defensive coordinator Rob Ryan is a mad scientist. This was a quote from yours truly, over the summer, when I really didn't have a strong basis to support my ...