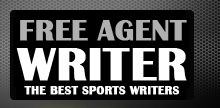 Yankee Addicts
Categories
Featured Sponsors
News published by
October 15, 2010
Three months ago I said I would be conducting a weekly list of NFL marquee game predictions with a trusted panel from Cowboys and Texans fans perspectives.  Due to some difficult ...
September 4, 2010
The Houston Texans signed veteran running back Derrick Ward after visiting with the recently released RB on Friday, according to reports from NFL Network's Jason La Canfora. After five seasons with ...
August 20, 2010
Many consider the preseason practically meaningless.  But why?  We've been through a mind-numbing six-month period without football. For most, this caused emotional pain and frustration. For some, this even caused physical suffering. After ...
August 15, 2010
Analogous to several NFL divisions, the AFC West is fabricated with fierce legendary rivalries.  But divergent, the enmity has seemed to have lost some of its strife with the Chargers ...
August 9, 2010
Avid football fanatics across the nation have been swarming to a recent earth-shattering headline that came about last weekend when NFL referee Bill Leavy took a trip to the Seattle Seahawks' camp to ...
August 2, 2010
Houston led the league in passing last season, but ranked 30th in rushing.  With a more experienced O-Line, additional versatile weapons, and a three-headed monster at running back, look for more ...
July 20, 2010
The Houston Texans have received a great amount of attention from around the league this offseason, with contract disputes and a crucial suspension for steroid use. But when it's all said ...
July 18, 2010
Following up on the top 10 impact rookies, this list covers the other side of the aisle—five rookies from the AFC South who may disappoint. While it's no secret that it ...
July 17, 2010
Last month I created a directory of the top 10 NFL rookies who I felt had the most simultaneous potential to become legendary superstars and derailing draft busts. Now despite the ...
June 30, 2010
The Houston Texans are coming off of their first winning season in franchise history and are poised for a playoff run in 2010. In fact, many have projected the Texans as ...