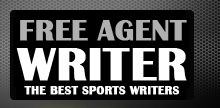 Yankee Addicts
Categories
Featured Sponsors
News published by
May 17, 2010
Training camp is just a few weeks away from going in full swing, and we're embarking on the "dead time" between the draft and longing absense of the regular season. ...
May 14, 2010
Contrary to public opinion, the Brian Cushing's four-game suspension that was announced last Friday doesn't fundamentally affect the team's progress to begin the 2010 NFL season.   Brian Cushing's Very Productive ...
May 12, 2010
It's only the middle of the month of May and tons of intriguing and disheartening news has already been catapulting through the airwaves. The biggest headlines in the NFL ...
May 10, 2010
After the quarterback, running back, and defensive back editions, another twist is implemented with the task of ranking the top 10 offensive playmakers in the AFC South, as there are ...
May 8, 2010
Following the quarterback and running back editions, this piece turns a slight direction, as I put the top ten ballhawk and hard-hitting truck corners and safeties from the AFC South ...
May 5, 2010
Following the quarterback edition, here are today's top AFC South leading rushers, with last season's statistics by far the biggest determining factor. Other criteria based upon off-the-field morale and ...
April 30, 2010
I have put together a list of rankings uncovering the AFC quarterbacks in honor of the Jason Campbell transition to Oakland, the Delhomme transition to Cleveland, the potential in Matt ...
April 25, 2010
What started off as a tremendous draft on day one, turned to a sour direction the rest of the way for the Houston Texans.     Great Start, Sour Following The Texans picked ...
April 25, 2010
After all of the mock draft predictions, controversy, speculation, and loads of surprises, the 2010 NFL Draft has come to a screeching halt. But now the predictions, speculation, and signings to ...
April 22, 2010
Merely hours away from kicking off the 2010 NFL Draft, fans and media personnel are swarming to the latest news, information, and mock draft predictions on their designated teams. Since Saturday ...