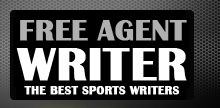 Yankee Addicts
Categories
Featured Sponsors
News published by
January 21, 2011
The Pittsburgh Steelers and the New York Jets.  Two different approaches to building a franchise, yet with very similar results.  The similarities are glaring from an overall philosophy standpoint.  The Steelers ...
September 28, 2010
It's been three weeks of football action, and with all that's been swallowed and chewed, we have three teams standing undefeated thus far.  Those three teams include the Kansas City Chiefs, ...
September 21, 2010
After the most entertaining football game thus far into the season, the San Francisco 49ers found themselves on the short end of the stick Monday night. The Niners were defeated ...
September 20, 2010
In the NFL, fans and media members alike get overly excited or overly dramatic early in the season.  If your 2-0, things are looking good and everyone on your side ...
September 14, 2010
On Sunday night's much anticipated debut between the Washington Redskins and Dallas Cowboys, the Cowboys looked anything but Super Bowl contenders.  Yet, at the end of the primetime game, they ...