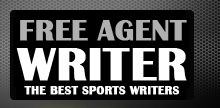 Yankee Addicts
Categories
Featured Sponsors
News published by
January 13, 2017
After a frenzied Thursday of action, there appears to be only one head coaching vacancy left in the NFL.Thursday saw two teams find their next head coaches, and several coordinator ...
January 9, 2017
The Wild Card Weekend in the 2017 NFL playoffs did little to live up to its moniker. Three of the games ended in rather lopsided victories, with the only exception perhaps ...
January 5, 2017
While 12 NFL teams are gearing up for the upcoming postseason, six others are searching for the right head coach to eventually take them to that promised land. Five of those ...
January 5, 2017
The Detroit Lions haven't won a playoff game since 1991, when they beat the Dallas Cowboys 38-6 in the divisional round. They've lost eight straight postseason games since then, lumped on ...
December 31, 2016
All 32 NFL teams are in action on a jam-packed Sunday of football, but only a handful of those teams are playing in games that will have any bearing on ...
December 29, 2016
What better way to ring in the New Year than with a full day of NFL action? All 32 teams are in play Sunday; it's a wall-to-wall slate that is sure ...
December 22, 2016
There are but two weeks left in the 2016 regular season, which means it's time for the last few dogged battles for the still-remaining playoff spots. Four teams—the New England Patriots, ...
December 8, 2016
Thursday night games in the NFL have often been tedious affairs this season. The players are working on short rest, have had little time to fully absorb new game plans ...
November 29, 2016
Week 13 signals the beginning of the playoffs in many fantasy football leagues, ratcheting up the tension and making the waiver wire that much more important as the real NFL ...
November 22, 2016
Fantasy football owners are going to be scrambling yet again heading into Week 12, with a number of high-profile players succumbing to late-season injuries. Injuries are commonplace in the NFL. Week ...