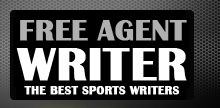 Yankee Addicts
Categories
Featured Sponsors
News published by
September 11, 2010
NFL games are always fun to go to. Even if your favorite team wins or loses you usually have the time of your life.  There are thousands of food choices and some ...
September 9, 2010
The NFL is a place where anything can happen. Some teams, like last season's Saints surprise everyone and win a Super Bowl, and some teams, like the Raiders have done ...
September 6, 2010
The NFL always has great players. Some players are great at offense and some are great at defense. Believe it or not every NFL team has at least one great ...
August 29, 2010
Last season the Seahawks went 5-11 and finished 3rd place in the west for the second strait season.They had some good expectations with players like T.J Houshmandzadeh and Matt Hasselbeck ...
August 7, 2010
In the NFL there are always teams who people expect to do well like the Colts, the Patriots, and the Cowboys. In this list I will look at some teams that ...
August 6, 2010
Today Russell Okung and the Seahawks finally agreed to a deal! Okung was the last unsigned first-round draft pick. His deal is worth $48.5 million with $29 million guaranteed. Okung ...
July 21, 2010
The Quarterback Position has always been known for having great players. They are players who are amazingly acurate and are team leaders. In this list I will tell you the ...
July 19, 2010
The Seahawks last year were a very bad team, but after a good offseason (most notably drafting Golden Tate) they will do much better this year. Here are my score ...