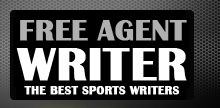 Yankee Addicts
Categories
Featured Sponsors
News published by
August 29, 2010
Going into their "dress rehearsal game," the Cleveland Browns were looking to improve upon their already surprising preseason performance. Mission accomplished. The Cleveland Browns' offense was extremely efficient in the first half ...
August 18, 2010
In Cleveland's first preseason game, the talk of the town wasn't about first round selection Joe Haden, nor was the theme centered around hopeful future signal-caller Colt McCoy. The rookie who ...
August 10, 2010
Braylon Edwards just can't get over Cleveland. With the free agency landscape the way it is throughout sports in America, it's usually best to just cut ties, remember the good times, ...
August 9, 2010
Things never get stale for Joshua Cribbs. The Cleveland Browns current kick returner/punt returner/special teams gunner/wide receiver/wildcat quarterback/wildcat running back obviously has plenty of job titles in the NFL. There's so many ...
July 26, 2010
As the Cleveland Browns open training camp, there is one undrafted player currently flying under the radar. We know that everyone loves an underdog. Undrafted out of small Division II Southwest Oklahoma ...
July 15, 2010
While it's the slow time between OTAs and training camp, let's continue looking back at how Cleveland fared position by position in 2009. This time, we're going to take a look ...
July 6, 2010
In this fourth edition of Cleveland's positional rankings, we'll take a look at a position that was difficult to gauge in 2009—the inside linebackers. An early-season injury to Eric Barton, coupled ...
April 25, 2010
Every year in late April the NFL Draft is held, and for a few months leading up to it, most NFL fans suddenly become Nostradamus-like. By predicting draft busts and sleepers, ...
April 16, 2010
In this third edition of Cleveland's 2009 positional rankings, we'll take a look at the playmakers of the 3-4 defense—the outside linebackers. Different teams have different versions of the 3-4 defense ...
March 28, 2010
In this second installment of Cleveland's defensive rankings, we'll take a look at one of the most unglamorous positions in the NFL…the nose tackle. Often occupying both a center and a ...