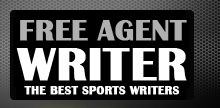 Yankee Addicts
Categories
Featured Sponsors
News published by
June 2, 2012
To justify their suspensions of four New Orleans Saints players for the 2012 season, the NFL is going to need more evidence than just a vague ledger of bounty information, ...
April 7, 2012
Trading the No. 3 overall pick in the 2012 NFL draft makes no sense for the Minnesota Vikings because there's no reason for them to pass on taking an impact ...
March 17, 2012
For the New England Patriots to build a Super Bowl caliber defense for next year and the future, they must improve the talent and depth of their secondary, which means ...
December 10, 2011
The Chicago Bears are just one playoff contender on upset alert in Week 14 of the NFL season. With four weeks left in the regular season, teams will be under ...
November 26, 2011
The New York Giants have struggled in recent weeks and thus their lead in the NFC East has been overtaken by the Dallas Cowboys, but the G-Men will get a ...
November 20, 2011
The Oakland Raiders are one of several favorites in Week 11 who are locks to cover the spread. The Raiders are starting to show improvement on offense with Carson Palmer ...
November 12, 2011
Denver Broncos quarterback Tim Tebow had an impressive win last week against the Oakland Raiders, proving he can be a dependable quarterback in the NFL. And in Week 10, he has a very ...
October 29, 2011
Houston Texans running back Ben Tate is one of several sleeper RBs you should either add off of your fantasy league's waiver wire or start on your team this week.With ...
October 29, 2011
New Orleans Saints quarterback Drew Brees has another easy matchup this week against the St. Louis Rams, his second consecutive opponent who has yet to win a game this NFL ...
October 29, 2011
Ryan Fitzpatrick recently signed a new contract with the Buffalo Bills, and will prove he's worth the money to the franchise and your fantasy team in Week 8 of the ...