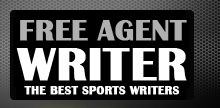 Yankee Addicts
Categories
Featured Sponsors
News published by
October 28, 2010
Green Bay has had its share of ups and downs so far this season, and Sunday night should have been no surprise to anyone either. The Packers played the same game ...
October 7, 2010
Week 5 is usually a week in which opinions can truly become formulated and the big guns are boasting their power atop their division. Usually, week 5 offers an opportunity ...
October 7, 2010
Adam Schefter reported that he believes Nick Barnett is suffering from a season-ending injury similar to the one Brian Urlacher suffered just a year ago. This injury adds yet another ...
October 2, 2010
The "New NFL" as it has been dubbed is said to be a passing league. Quarterbacks are valued highly and short slant routes, like the ones perfected by the Colts ...