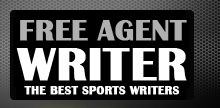 Yankee Addicts
Categories
Featured Sponsors
News published by
August 16, 2010
Perhaps the biggest question in the NFL this month is whether or not Brett Favre will return to quarterback the Minnesota Vikings in the upcoming season. Sports fans across the ...
July 29, 2010
This season is the beginning of a new era for the Washington Redskins. Mike Shanahan will introduce new schemes on offense and defense, as well as introduce almost an entirely different ...
July 7, 2010
There is very little doubt that the 2010 season will be the beginning of a new era for the Washington Redskins. A new coach, a new general manager and a new ...
April 25, 2010
With the first overall pick on Thursday night, the St. Louis Rams shocked the sports world when they decided not to draft quarterback Sam Bradford, but instead take Oakland Raiders ...
April 14, 2010
  I've said it before, and I'll say it again, Dan Snyder is probably the worst person in sports. Not as an owner, but he is actually the most despicable human ...
March 18, 2010
Rex Grossman? Are you serious? If there was any doubt that you should stop hoping the Redskins will ever be good again, it should be gone now. Rex Grossman is the worst quarterback ...
March 12, 2010
When it was announced that the 2010 free agency period was going to take place in an uncapped year, everyone in D.C. immediately assumed the Redskins would buy every free ...