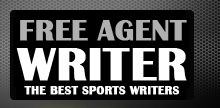 Yankee Addicts
Categories
Featured Sponsors
News published by
April 8, 2011
The NFL Draft is just three weeks away. There are many questions that need to be answered, but perhaps the biggest question is where will the quarterbacks go? This is ...
December 23, 2010
After having the worst season in Bronco history, it is clear that this team will need a lot of help if they want to return to their winning ways. This ...
February 20, 2010
Last year, McDaniels surprised us all when he picked Knowshon Moreno as the 12th selection of the draft. While many people did not support the pick, it did give ...