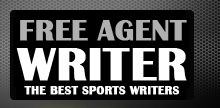 Yankee Addicts
Categories
Featured Sponsors
News published by
September 19, 2015
Seahawks versus Packers has turned into a rivalry in recent years, each team jockeying with the other for NFC dominance. Even when they're not directly battling on the field, they're constantly ...
September 17, 2015
The NFL doesn't allow teams the time to wallow in their despair following an emotional loss like the one the Seattle Seahawks suffered to the St. Louis Rams in Week ...
September 12, 2015
Don't think the Seattle Seahawks weren't watching.  They saw the Super Bowl XLIX banner unfurl. They saw the 60,000-plus New England zealots worshiping in the House of Brady. They saw the ...
September 10, 2015
The searing image of Malcolm Butler laying in front of the end zone, with Russell Wilson's ill-fated pass clutched firmly in his arms, isn't one the Seattle Seahawks will ever erase. But ...
September 4, 2015
Just before the Seattle Seahawks erupted onto the field at CenturyLink Stadium for their game with the Oakland Raiders, cameras captured a circle of Seahawks linked together, swaying side to ...
September 3, 2015
The dress rehearsals are nearly complete; we're just one game away from the opening act of the NFL season. On Thursday night, the Seattle Seahawks and Oakland Raiders will meet in ...
August 22, 2015
The Seattle Seahawks were once again a Jekyll-and-Hyde conundrum Friday night in a 14-13 loss to the Kansas City Chiefs. Though the Legion of Boom has yet to take the field ...
August 20, 2015
Beauty is rare in the NFL's preseason, and even those occasional moments of polish and precision are fleeting; this much was evident during Seattle's 22-20 loss to Denver last week—even Tyler ...
April 18, 2015
With the unrelenting eye of the media trained on quarterbacks Jameis Winston and Marcus Mariota like Sauron on the One Ring, it could come as something of a shock to ...