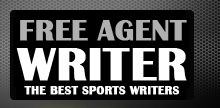 Yankee Addicts
Categories
Featured Sponsors
News published by
May 5, 2012
When the Pittsburgh Steelers used their third-round selection in the 2012 NFL Draft to select Sean Spence, it was believed that he was intended to be the next Steelers draft ...
January 29, 2012
OK, here is what we all know as of now (just in case you have been living under a rock).Ben Roethlisberger stated that it would be a mistake for ...
August 14, 2011
Every year at this time, there is excitement in all of the 32 NFL cities.  Teams from the Panthers to the Packers are all excited about their chances for this ...
July 23, 2011
As we approach the conclusion of the NFL lockout, and fans can start to breathe easier about not losing a season, I began to wonder if the legal battle between ...
July 9, 2011
Pittsburgh Steelers WR Hines Ward was arrested early Saturday morning and charged with driving under the influence.Ward was taken to the DeKalb County jail in Georgia at 3:41 a.m. and ...
April 1, 2011
There is an old saying in the NFL: If you are in the position to draft a potential franchise quarterback, unless you have one, you HAVE to. It is no ...
March 12, 2011
Now that the NFL and the NFLPA have officially agreed to not agree, the NFL lockout has started, and there are MANY different routes that can take place between now ...
March 6, 2011
There are three things in this life that are certain: 1 - Death. 2 - Taxes. 3 - Peyton Manning will be the highest paid player in the NFL. Anyone that does not agree ...
March 5, 2011
The Steelers are great because of their defense. The Steelers are only as good as their running game takes them. The Steelers are NEVER going to be a team that scores a ...
February 26, 2011
In the comment fields on a few of the articles I have recently written about Ben Roethlisberger, some people have mentioned the fact that Roethlisberger had the worst statistics in ...