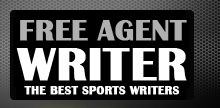 Yankee Addicts
Categories
Featured Sponsors
News published by
January 13, 2013
Seven years ago, I was sitting in the RCA Dome, the then-home of the Indianapolis Colts, preparing to see the Colts start a playoff run against an up-and-down Pittsburgh Steeler ...
March 11, 2012
It's weird to have to endure two annual rituals in the same day, but as the country bemoans the loss of an hour's sleep as our clocks spring forward, we ...
December 9, 2010
The NFL playoff picture is starting to shape up. Sure, there's the muddled NFC West and the surprisingly inconsistent AFC South to settle, but there's several teams that have all ...
June 9, 2010
The Indianapolis Colts wrapped up their mandatory mini-camp on Sunday, but the highlight came in their Saturday practice, which was open to the public. It was the first chance for fans ...
May 26, 2010
On Saturday, June 5, the Colts will take the field at Lucas Oil Stadium for a practice session that is open to the public. It'll be the public's first ...
April 25, 2010
 The Rolling Stones once sung, "You can't always get what you want, but if you try sometimes you might find you get what you need."  Those lyrics could apply to the ...
April 18, 2010
There are many questions that the majority of NFL fans will focus on between now and 2010 draft. Will the Rams end the suspense and draft Sam Bradford? Who will take a ...
April 1, 2010
With the 31st, it's easy to see the Colts go in one of three directions. They could try to improve the run game by drafting an offensive lineman. They can ...
March 7, 2010
While some teams are making headlines with big free agent signings or solidifying their lineups with quality trades, the Colts have been quietly working on altering their roster for ...
February 24, 2010
For the most part, I really hate the NFL offseason. Most fans do. Unless you are still in a celebrational stupor on Bourbon Street, the vast majority of NFL fans ...