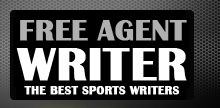 Yankee Addicts
Categories
Featured Sponsors
News published by
December 29, 2016
The Pittsburgh Steelers, as one might imagine, own the recent rivalry with the Cleveland Browns, winning seven of the last eight meetings straight up and going 6-2 against the spread, ...
December 29, 2016
Minnesota was on a 5-2 run in its rivalry with Chicago, both straight up and against the spread, but the Bears upset the Vikings in the first meeting between the ...
December 29, 2016
The Atlanta Falcons (10-5) would love nothing more than a week off in the playoffs and a home game in the divisional round. The NFC South champion Falcons can make ...
December 29, 2016
In an AFC South matchup between two teams that were supposed to contend for the division title this season, the Indianapolis Colts (7-8) will simply attempt to finish at .500 ...
December 29, 2016
A costly loss last week has put the Seattle Seahawks in a tough position in order to try to earn the No. 2 seed in the NFC. Fortunately for bettors, ...
December 29, 2016
The Carolina Panthers owned six straight wins in the series with Tampa Bay coming into this season, going 5-1 against the spread in the process, but the Buccaneers took the ...
December 29, 2016
The Cincinnati Bengals beat the Baltimore Ravens five times in a row, going 4-1 against the spread, coming into this season, but the Ravens took the first meeting between these ...
December 28, 2016
Though not likely to be made official until much closer to kickoff, oddsmakers believe the NFC East-leading Dallas Cowboys (13-2) will rest their starters Sunday, as they sit as road ...
December 28, 2016
The Kansas City Chiefs (11-4) will try to put themselves into position to win the AFC West title and earn a first-round bye in the playoffs when they visit the ...
December 27, 2016
The Oakland Raiders (12-3) will try to sweep the Denver Broncos (8-7) and win the AFC West title Sunday as small road underdogs due to the absence of starting quarterback ...