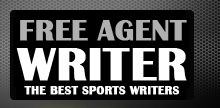 Yankee Addicts
Categories
Featured Sponsors
News published by
July 17, 2013
Vacation time is over for the New England Patriots. Come July 25, all 90 men on the roster will be within the confines of Gillette Stadium for training camp. For the better ...
May 29, 2013
With OTAs, minicamp and training camp all on tap for the New England Patriots, the time is now for position battles to begin brewing in Foxborough.Strong safety will be one ...
February 27, 2013
With April's draft looming, New England Patriots personnel were on hand for the 2013 NFL scouting combine in Indianapolis.From Feb. 20 to Feb. 26, 333 draft prospects showcased their skills, ...
February 20, 2013
NFL coaches and general managers know what they have in a former draft pick by year three of their development.For some players, that means they're due for a lucrative contract ...
January 27, 2013
The renowned Senior Bowl has been checked off the to-do list, the NFL combine is circled on the calendar, and the 2013 NFL draft is just three months away.Needless to ...
December 26, 2012
It's Week 17 of the 2012 NFL season, and by now teams are either preparing for the playoffs or for the offseason.The fine line between January football and sitting on ...
October 10, 2012
The New England Patriots have weathered some early-season storms but remain in tact with a 3-2 record. Yet while some Patriots have taken a step forward, others have taken a ...
September 19, 2012
It's only Week 3 of the NFL regular season, but the New England Patriots have already made plenty of headlines.Some news out of Foxborough has been positive, some has been ...
July 29, 2012
The New England Patriots are in training camp priming for the 2012 season, but a familiar face is missing: right guard Brian Waters.The veteran offensive lineman started all 16 regular-season games ...
July 11, 2012
The New England Patriots managed to punch a ticket to Super Bowl XLVI, despite having the 31st ranked defense in the NFL. Other AFC East teams fared better on the defensive side ...