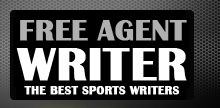 Yankee Addicts
Categories
Featured Sponsors
News published by
March 3, 2011
From 1988 to 1999, the Buffalo Bills made the playoffs 10 times, won the AFC East six times, and appeared in four straight Super Bowls from 1990 to 1993. Since then, the ...
March 3, 2011
After three disappointing seasons, former Ohio State Buckeye standout Vernon Gholston was released by the New York Jets. Gholston, the sixth overall pick of the 2008 National Football League Draft, never panned ...
February 12, 2011
Jerry Jones is to the National Football League what George Steinbrenner was to Major League Baseball, the epitome of money and greed. In 1989, Jerry Jones purchased the Dallas Cowboys for ...
February 7, 2011
Wow, talk about a change of heart. A little over a year ago, the Black Eyed Peas were widely praised for their flash mob performance to help kick off the new ...
February 4, 2011
It's an argument as old as the game itself. It's one of the greatest debates in sports right alongside the designated hitter in baseball, the shootout in hockey, or which football defense is ...
January 29, 2011
Go back to the 2005 NFL Draft. The San Francisco 49ers have been on the clock unofficially since the early part of December of 2004, and officially since January of ...
January 29, 2011
I wrote an article a while back that I am completely against the NFL Pro Bowl. Not because I don't like the game itself, rather because I hate the rules ...
January 21, 2011
Although he was a first-round pick, the biggest play of Freddie Mitchell's short four-year career was a 28-yard catch on 4th-and-26 in the 2004 NFC Divisional playoff game between the Eagles and ...
January 19, 2011
This weekend's NFC title game squares off the NFL's oldest rivalry, as the Chicago Bears host the red hot Green Bay Packers, who are coming off road wins against the ...
January 15, 2011
The biggest upset in the NFL Playoffs since the Jaguars 1996 Divisional win over the No. 1 seed, the John Elway-led Denver Broncos, happened last week when the 7-9 Seattle ...