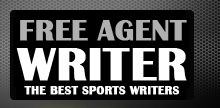 Yankee Addicts
Categories
Featured Sponsors
News published by
January 16, 2011
Lawrence Timmons, one of the NFL's silent killers, sat down with Bleacher Report after his Steelers team pulled out a 31-24 comeback win and moved on to the AFC Championship ...
January 9, 2011
In the spirit of the Seahawks' upset victory over the Saints today, it is only appropriate that I provide readers with my top 10 spoilers in NFL Playoff history. The ...
January 9, 2011
The Philadelphia Eagles and Green Bay Packers played the opening week of the season, and the Packers walked away with a 27-20 victory. But in defeat, the Eagles discovered their ...
December 22, 2010
The NFL wants to make the regular season 18 games, the players don't. But here at Bleacher Report we're going to pretend that it is 14 games for today. So, ...