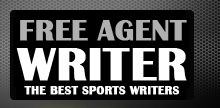 Yankee Addicts
Categories
Featured Sponsors
News published by
April 25, 2011
Current left tackle Matt Light isn't getting any younger and will also be a free agent. So fans would be ecstatic to see the Patriots draft the hometown Castonzo. Other ...
April 25, 2011
J.J. Watt could slide to the San Diego Chargers because he lacks the freakish athleticism of most of the other pass rushers in the draft.The Chargers are in desperate need ...
April 25, 2011
It might be a foregone conclusion that the Giants will take an offensive tackle here.Nate Solder is one of the very best available and should drop to this pick. There ...
April 25, 2011
Da'Quan Bowers to the Buccaneers just sounds so right. He is a throwback to the Tampa Bay defense of yesterday.His combination of speed, size and his ability to shed blockers ...
April 25, 2011
Many mock drafts have the Chiefs taking a passer rusher here, but their bigger weakness is at offensive tackle. Barry Richardson struggled at right tackle for the squad last year, ...
April 25, 2011
The Colts are expected to draft the best possible offensive tackle at this spot. Derek Sherrod might be the best available and seems to be NFL ready. He doesn't have ...
April 25, 2011
Jimmy Smith is one of the most talented players in the draft who seems to be falling because of his character flaws. He has a history of failing drug tests ...
April 25, 2011
The obvious weakness of the Saints is at the defensive line. Corey Liuget will probably the best prospect on the board at this time. He has the talent to be ...
April 25, 2011
Seattle would probably like to take a quarterback like Jake Locker at this pick, but I doubt he drops that far. So this pick could be traded to try to ...
April 25, 2011
Cornerbacks Chris Carr, Josh Wilson and Fabian Washington are all free agents for the Ravens, so they could draft for depth here.Aaron Williams is a solid all around cornerback. He ...