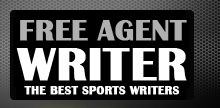 Yankee Addicts
Categories
Featured Sponsors
News published by
June 29, 2016
Forget about the weather forecast—things are going to be hot around East Rutherford, New Jersey, this summer when the New York Giants take the field for training camp starting July ...
June 27, 2016
The start of summer training camp is still a little more than a month away, but the New York Giants' list of things to get accomplished before the start of ...
June 24, 2016
New York Giants head coach Ben McAdoo smiled when the topic of a depth chart was raised following an OTA workout  "Guys are jockeying for reps right now for when we ...
June 22, 2016
At the end of the New York Giants' mandatory minicamp, head coach Ben McAdoo insistent that jobs haven't been won or lost based strictly on who was playing where for ...
June 20, 2016
The New York Giants "prep-cation" is on, with the best still yet to come for head coach Ben McAdoo and company. Of course, that still remains to be seen as championships ...
June 17, 2016
The first offseason program under New York Giants head coach Ben McAdoo is in the books, and by the sound of things, it was mostly successful. "We started to establish our ...
June 15, 2016
The New York Giants wrap up their offseason program this week, the first under new head coach Ben McAdoo, and oh, what a revealing offseason it has been. Although access to ...
June 13, 2016
This week, the New York Giants wrap up their spring football practices, a period in which the team has had an opportunity to get to work with each other as ...
June 10, 2016
With the New York Giants almost finished with their spring program—they have their mandatory minicamp next week—the excitement among fans continues to build as to how the final roster might ...
June 8, 2016
Last but not least in my breakdown of each New York Giants positional unit is special teams—the often under-appreciated, yet so important, part of the game that dictates the starting ...