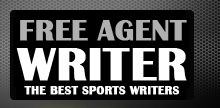 Yankee Addicts
Categories
Featured Sponsors
News published by
October 1, 2010
Coming into this season many people expected the Jets to make the Super Bowl. The Jets had everything a great team needed. A tremendous defense (ranked First in the NFL ...
June 25, 2010
The NFC East is one of the most competitive divisions in football, if not the most.  It has the potential for 3 teams to make the NFL playoffs, ...
June 23, 2010
The former Washington Redskins Quarterback Jason Campbell has not had the best career.  By no means has he had the worst either.  His supporting cast in Washington was not that ...
May 21, 2010
In this article I will look into which teams will have the most problems if a QB was to get injured. People know how much a QB means to ...
May 20, 2010
The AFC west has been a joke in past years. It's only been about the San Diego Chargers. The Raiders have had seven straight 11-or-more-loss seasons, the Chiefs are just ...
May 19, 2010
The AFC East might very well be the most competitive division in the NFL next year.  The division has 3 potential playoff teams (and then the Bills).   To start ...