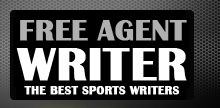 Yankee Addicts
Categories
Featured Sponsors
News published by
February 12, 2011
After spending plenty of time trying to begin and title this article, it hit me that it's just difficult to put into words what this Super Bowl victory means for this ...
November 30, 2010
As another week goes by following the Packers and the 2010 season, a controversial replay (or lack of) again is part of the game.   Late in the second quarter, in ...
September 29, 2010
Didn't 2007 teach us anything?  Looking back for a minute, let's examine the RB situation for the Green Bay Packers entering 2007. Coming off a lackluster 2006 rushing effort, with an ...
August 6, 2010
Given this week's headlines coming from Minneapolis, it seems apropos to cite "four" reasons why the Packers could be much improved in 2010 compared to the 2009 squad.   You may wonder ...
August 1, 2010
There is a development in one of the five rookie training camp stories I wrote about last week regarding the competition at safety between rookie 3rd round pick Morgan Burnett and ...
July 26, 2010
While the preseason is typically considered a dull run of practices and games featuring players we won't see much during the regular season, annually I seek a few story ...