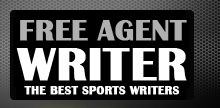 Yankee Addicts
Categories
Featured Sponsors
News published by
January 13, 2011
Of the eight remaining starting quarterbacks in the NFL playoffs, only one has the chance to change everyone's perception of him. Only one, can change the way that fans and ...
December 1, 2010
As the 2010 NFL season approaches its three quarter mark, teams are jockeying for playoff position, while individual players are beginning to make their cases for the numerous individual awards. In ...
October 7, 2010
After a horrendous Week 3, I rebounded somewhat solidly in Week 4, going 9-5. I was relatively happy with that, and especially happy with my upset special of the Rams ...
October 3, 2010
After a very unimpressive showing in week 3, in which I only went 8-8, I am looking to rebound in a big way this week. This is the first week of ...
September 7, 2010
With the NFL season ready to open in mere days, it is a time of excitement for fans worldwide. Everybody thinks that this could be their season to hoist the ...
August 3, 2010
To a lot of people, Fred Taylor is known as "Fragile Fred" for his seemingly never ending injury problems. Instead, he should be known as Fred Taylor, future Hall of Famer. It isn't ...