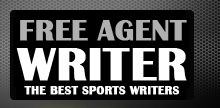 Yankee Addicts
Categories
Featured Sponsors
News published by
February 8, 2011
The Packers started the Super Bowl very well. Rodgers led a drive and then the defense did what it had been doing all year and intercepted a pass by putting ...
January 26, 2011
It is easy to point to Aaron Rodgers and Charles Woodson or Greg Jennings and Clay Matthews and see what they have contributed to the Packers' success. But let's take ...
January 16, 2011
The Packers, left for dead several weeks ago after a terrible loss to the Lions, are now streaking their way into the NFC Championship game thanks to  a 48-21 stomping ...
December 28, 2010
I was starting to feel like an old fogey yelling about how they were tougher in my day. But then Governor Rendell said exactly what I was thinking also. You ...