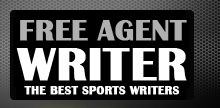 Yankee Addicts
Categories
Featured Sponsors
News published by
July 6, 2010
First off, an apology.  Rather than concentrating specifically on the Seahawks for once, this feature is basically the rantings of a middle-aged man, who remembers the good old days when ...
June 24, 2010
A lot of people assume that Matt Hasselbeck days as the starting quarterback in Seattle are numbered. Hence the decision to bring Charlie Whitehurst in to compete for the top ...
June 6, 2010
The first time I had the opportunity to see Jake Locker in action, I quickly realised that the Huskies had a special player on their hands. The guy's talent and ...
May 1, 2010
What makes someone a serious sports fan? Given that the average supporter has been gradually priced out of going to the games, combined with the current economic climate, it's unfair to ...
April 28, 2010
When Pete Carroll first arrived in Seattle, a lot of members of the media, as well as the 12th man, were slightly bemused by the move. It was felt that Seahawks ...
April 25, 2010
When I first started watching the NFL back in the mid-80s, I fell in love with the game right away. Despite living in England, American Football (as we call it) ...
January 6, 2010
Another day and yet another story linking the Buffalo Bills with a move to a new city. This time, the rumour mill has them relocating to Los Angeles. John Semcken, managing partner of ...