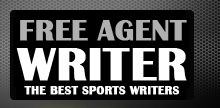 Yankee Addicts
Categories
Featured Sponsors
News published by
July 21, 2010
With the LeBron James free agency saga concluded all major sports entertainment, sources have now focused their attention onto the lightning rod of story lines in Brett Favre. Everyone may ...
May 25, 2010
Sometime this afternoon, according to reports, it will be announced that the New Meadowlands Stadium located in East Rutherford, New Jersey will we rewarded the pleasure of hosting the Super ...
April 28, 2010
The Oakland Raiders acquired quarterback Jason Campbell from the Washington Redskins on Saturday, during the draft weekend, for a 4th round draft pick in 2012.    Jason Campbell may be an upgrade for ...
April 18, 2010
The common assumption viewers and readers have been fed throughout the preparation for the 2010 NFL Draft is that quarterback Sam Bradford is the no-brainer selection for the St. Louis ...
March 25, 2010
The NFL has passed a new rule altering the overtime format exclusively for the playoffs. The proposal passed through the owners rather comfortably with a 28-4 vote.   This new format will ...